I always like to put a technical look into the year before and try to summarize it in the first 3 months of the following year.
The Technical Stuff
In 2019, I created 21,940 photos and about 48 videos. This makes 2019 my 2nd most prolific year, behind #1, 2016 (the year where I went skiing for New Years, visited the Big Sur coast in California, spent 5 days rafting down the Grand Canyon, went to the Olympic Peninsula, and spend a month in Australia and New Zealand). 2019 is the first year where my photos used more than 1 TB.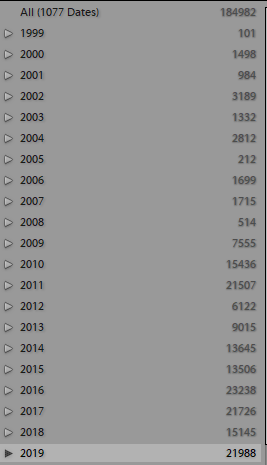 2019 was defined by 3 large photo events. #1, like 2018, was the National Cherry Blossom Festival in Washington DC. #2 was a 2-week trip to the Faroe Islands and Norway in August. #3 was a trip over New Years to Banff, AB, Canada. #3 will show up on the 2020 year in review as well.
2019 has some smaller events as well. This included a trip to several historic rail roads in Pennsylvania (Jim Thorpe, Strasburg), several trips to the beach, and a Hot Air Balloon Festival in Lancaster.
Unfortunately, I was unable to visit Longwood Gardens for the Christmas Lights this year. Oh well, maybe in 2020.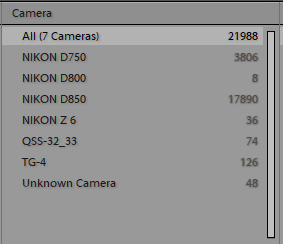 In terms of cameras used per year, this is the first year my D850/D800 won. In 2019, I clearly preferred my newest camera over the D750 for 2016-2018. These results surprised me, because I thought they would be closer together. I think there is a reason for this, which is revealed in the next section. For the first time since 2009, my D300 is not on the list. Guess it might be time to get rid of it.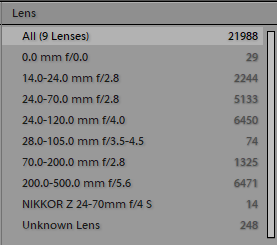 Wait a minute, my most used lens was a 200-500mm? Where did that even come from?
The 200-500mm lens was a new purchase for 2019. It was primarily purchased for the previously mentioned Faroe Islands trip in order to chase puffins. This is also the reason the D850 had more photos in 2019 – the autofocus on the D850 is just better, and puffins are notoriously obnoxious to try to shoot. The majority of those 6471 images are of puffins. The rest are, mostly, me attempting to shoot images of the moon.
My second most used lens was last year's most used lens, the 24-120 f/4. What can I say, it is a really good lens for when I want to save some weight. The third most used lens was last year's number 2, the 24-70 f/2.8. Guess I really like this focal range.
Everything else was about in line with the usage in 2018.
The breakdown of Camera:Lens Combination is:
D850/D800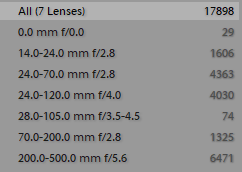 D750

I don't usually look at these results before writing this post. This actually surprises me. The really surprising part is how little I used the D750 last year.
The Good Stuff – New Stuff
As previously mentioned, in 2019, I aquired the Nikon 200-500mm f/5.6 lens and a GoPro Hero 7. And yeah, I now own a selfie stick too.
The Good Stuff – Travels
I mentioned this above, but, 2019 was a lot of smaller weekend trips, with a really big trip to the Faroe Islands and another one to Banff.
The Bad Stuff – Gear Repairs
For the first time ever, I had a non-warantee repair on a camera lens. My camera bag, unfortunately, fell out of my car. The 14-24 lens was damaged and needed to be serviced at a Nikon repair center. It was quite expensive, but the service center did a really good job and the insides work like it was new.
The Bad Stuff – Missed Goals for 2019
I was not able to meet my goal of learning how to produce videos better nor generating an income from photography. While I realize it is a poor craftsman who blames his tools, one of the reasons I've struggled with video is because my laptop, which is a now-3 year old Lenovo, simply struggles too much to make videos consistently.
2020
For 2020, my plans are this:
1 trip currently being planned – Cherry Blossoms in DC in the March-April timeframe.
Goal: Actually start to make some money, whether it is stock photos or something else.
Goal: Update the blog more often. Learn how to use Gutenberg, which has replaced the old WordPress post editing system.
Goal: Work on learning how to make videos, maybe even launching a YouTube channel.
Stretch Goal: Work with a brand to showcase their gear in amazing locations.
To the future-
-Brad