Every year I try to do a lookback at the previous calendar year and how my photography went. For previous years posts, see the Year in Review category.
It is now 2021 and the previous year was 2020. In 2020, I did not take many photos, especially compared to previous years. I think we all know why.
The Technical Stuff
In 2020, I created 11,353 photos and videos, my 9th most prolific year. This is my lowest year since 2013, and about 2,000 images below 2015.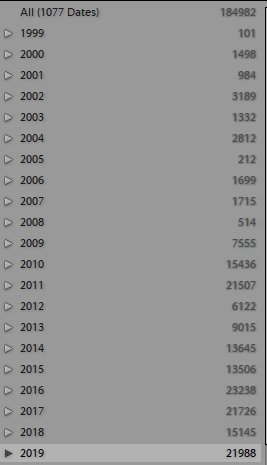 For comparison, in 2013 (now my 10th most prolific year), I went to the Oregon Coast, as well as Japan. In 2015 (which remains my 8th most prolific year), I went to Iceland for the first time as well as Vegas and the Eastern Sierra area of California.
In 2020, for obvious reasons, I was unable to travel as much as I would like. There were 3 main events for 2020: a visit to Banff, AB, Canada in January (I was on this trip for New Years 2020 and it was pre-lockdown), Utah/Arizona in the summer, and Maine in October.
Like 2019, I did not get to visit Longwood Gardens for Christmas. Like I said last year, oh well, maybe in 2021.
Most of the 'Unknown Camera' is due to LightRoom not handling the camera name on videos. Most of the 738 listed above is likely videos from any camera – iPhone, GoPro, or Nikon DSLRs.
In 2020, my most used lens was my 24-70. It is also one of 2 lenses that were used more in 2020 than in 2019, the other being the 28-105. My #2 lens for the year was my most used lens in 2019, the 200-500mm bazooka. The biggest drop in usage was the 24-120, which went from 6450 to 1005.
In terms of cameras used per year, it is a nearly 50% decrease from 2019. For the second year, the D850 was my most used camera. I'm actually a bit surprised that I only took 2000 images on my D750 in 2020.
I wouldn't really say that I'm completely preferring the D850 over the D750, but it certainly is trending that way. The D750 is now 5 years old, which is when I normally when I start to consider buying a replacement. Given that 2020 was a bust of a year, I think I'll keep it a little bit longer. I also did not use my D300 or D800 at all in 2020. Last year was not normal. I'm going to wait another year before I consider getting rid of any old camera bodies.
One thing that isn't directly shown is film. I used a 1980's era Minolta x-700 that belonged to my grandfather and an early 1960's Zenit-3 that was a birthday present from my amazing and wonderful girlfriend.
The breakdown of Camera: Lens Combination:
D850:

D750

The Good Stuff – Travels
I was fortunate enough to start 2020 in one of the most amazing places in the world – Banff, Alberta, Canada. This was pre-lockdown when there were some rumors of a new coronavirus-like virus coming out of Wuhan China. At the time, none of us knew how it, and the reaction to it, would come to define 2020.
At the end of June, I was able to escape to Utah/Arizona. This was a trip I really needed after the first 4 months of 15 days to flatten the curve. At the time, Utah and Arizona were not really enforcing masking, and it felt almost normal. It was really great to experience Bryce Canyon, in the summer, when the crowds were all staying home.
In mid-October, about 7 months into 15 days to flatten the curve, I went to Maine for a week. This trip was slightly mis-timed and Acadia was a bit more crowded than it otherwise would have been. I had forgotten about Columbus Day and that it is still a holiday. However, it was one of the clearest night skies I've ever seen in the USA.
The Good Stuff – New Stuff
The only thing new for 2020 is a Zenit-3 film camera. This camera is from the early 1960's and was made in the former USSR. I should probably do a full post on this camera because it is a fascinating piece of equipment.
The Good Stuff – Completed Goals of 2020
Back in early 2020, I set out some goals. While 2020 was not that great, I did meet some goals.
I made money off of stock sales! Awesome.
Well, I guess it is better than nothing? You can't request a payout at Adobe Stock until you hit $25. So, it may as well have been nothing. Not sure if this is goal met or goal missed.
I did set a goal of adding more posts. I had 8 in 2020. I did want more, but it didn't happen. I do have a lot of half-written posts. While I tried to clear out some old half-written posts, I think I ended the year with more than I started. With that said, there were more posts in 2020 than in 2019.
At the beginning of the year I intended to learn how to use the new WordPress Guttenberg editor. In the end, I switched to something called BoldGrid and started to learn how to use that. I like BoldGrid better than Guttenberg and my web hosting hosting company (Dreamhost, referral link for $50 off – note, I also get $50) provides premium version of BoldGrid.
The Bad Stuff – Missed Goals for 2020
The first missed goal was expected, I did not make the 2020 National Cherry Blossom Festival in DC. I anticipate not making the 2021 Festival as well.
I also did not work on learning how to produce videos. While I did watch some YouTube videos on how to make videos, that is about as far as I managed to get.
2021
Looking forward to what 2021 may hold, here are some goals for the year.
Goal: Actually make money with photography. More than 75cents would be great.
Goal: Even more posts! I'm starting off fairly well with getting the year in review out before the end of January.
Goal: Website redesign. I've been using this same theme, Harmonic, for over 4 years. I am trying to find a new theme that has everything I like about Harmonic, but also gets rid of the things I do not like. It is difficult to pick a good theme.
Goal: Travel and take photos when possible. I have no idea what will happen with travel, the virus, or anything else.
To the future-
-Brad