In what I hope to make an annual thing, I'd like to use this post to look back over 2017.  The travels, what cameras/lenses I favored, and what my favorite images of the year are.  Here we go, starting with the most straight forward items.
The Technical Stuff
In 2017, I created 21,446 photos and 268 videos.  This makes 2017 my second most prolific year of photography, after only 2016.  It was only slightly above 2011, which is now in 3rd place.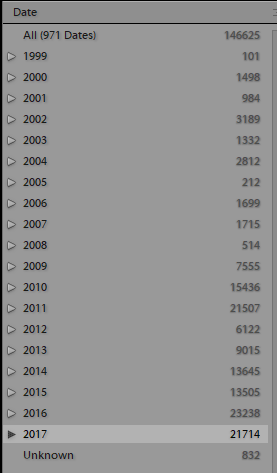 2017, like 2016, was dominated by a single trip – in this case, my trip to Greenland.  This trip was responsible for 13,298 of the photos and videos.  2017 was otherwise a very low-photo year.  My lowest since 2012, when I last moved across the country.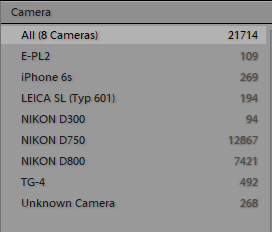 For cameras per year, it is clear, I favored the D750 over the D800, which is the second year in a row.
It really wasn't even close.  I think the weight of the camera, combined with the high burst rate really led me to favor this camera.  I also like to use this camera for night time time-lapse/star trails, which artificially inflates the camera usage – 1000 photos taken may only result in 1 final image.
The Leica is the only camera on the list that I do not own.  I had the chance to use it for an afternoon, which was a ton of fun.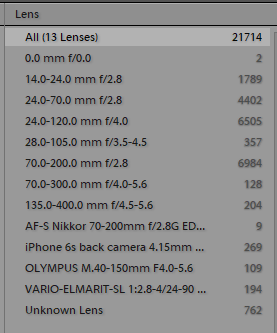 My favorite lens for 2017 was the Nikon 70-200 f/2.8, followed closely by the Nikon 24-120 f/4.  It actually surprises me that the 70-200 is so high up on this list.  This is due to my Greenland trip where I heavily favored this lens.  The Greenland trip was responsible for 5481 of the 6984 photos taken with this lens in 2017.
I know that simply a large number of images doesn't equate to a large number of images you like.  A large number of images only means you consume a lot of space on external disk drives, which 2017 certainly did.  2017 consumed 814 GiB, which is certainly a record for me.
The breakdown of Camera:Lens combinations is:
D800

D750


Originally I was going to put my favorite images of 2017 in this space, but I've decided to hold that for a new post in the next week or so.  Knowing me, it will take longer, but we shall see.
The Good Stuff – New Stuff
2017 was a small year for purchases.  I purchased a new camera bag for international travel and a new travel laptop.
The Good Stuff – Travels
My trip to Greenland was by far the largest excursion of 2017.  Other than this trip, I had a weekend in Utah; some day trips in and around Seattle; and some visits to family that allowed me to take some photos.
The Bad Stuff – Repairs and Damage
I hope this section doesn't have large entries every year.  But this year has a frustrating entry.
This year, my D750 was subject to a recall on the shutter.  When I received the camera back after the first repair, there were issues with the reassembly of the camera.  It had to go back in to be reassembled properly.  I was lucky, as the camera nearly didn't make it back to me for my Greenland trip.  But, I am also thankful to Nikon who went out of their way to ensure that happened.  I am also quite thankful that my D750 has a brand new shutter.  While my D750 has taken nearly 30,000 photos, the shutter only has around 6900.  The D750 will likely continue to be in use for 3-6 more years.
Outside of this, my gear experienced nothing more than normal wear and tear.
2018
Let's now look at my plans for this current year.
Due to job-related reasons, I've relocated from the PNW to Pennsylvania.  But I've found a nice place near my new job and not too far from the outdoors.  So I'll be photographing a new area of the country with new parks and things to explore.  I'll also be visiting the Atlantic Ocean, which is fun.
In 2018 I hope to have a few more business-oriented aspects to my photography.  Until now, it has been mostly for fun.  In this new year, I hope to pursue tasks which offset the cost of my camera gear and travels.  More details as they become available and I can actually make them happen.
I'm also testing the water with video and learning the basics of producing a video.  I have an idea that I hope to launch in 2018.
Until the next post
-Brad